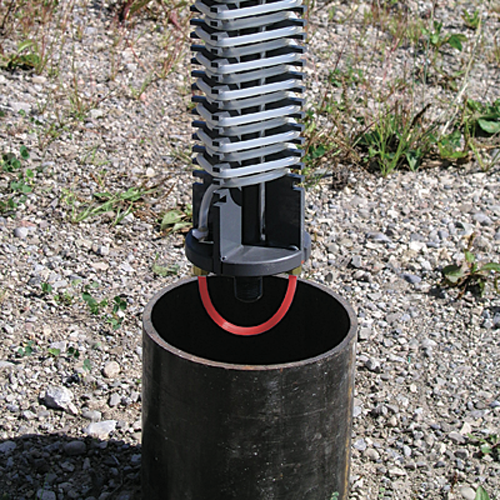 The Waterloo Emitter™ is designed to assist in-situ remedial biodegradation of MTBE, BTEX and other contaminants. It enables oxygen (or hydrogen for anaerobic remediation) to diffuse through silicone or LDPE tubing in a controlled uniform manner. The simple, low-cost, patented technology consists of a PVC frame wrapped with tubing that can be pressurized to obtain the desired diffusive transfer of gas, appropriate to site-specific needs. Sized for 2", 4" and 6" wells, the units can be stacked in a well and joined from one well to another, to allow the controlled continuous diffusion of gas into the plume.
Engineered for the controlled continuous diffusive release of:
Oxygen for aerobic bioremediation
Hydrogen for anaerobic bioremediation
CO2 for pH adjustment
SF6, He, Ar for tracer tests
---
Suggested Accessories to Complete Your Waterloo Emitter Installation™
Below we have conveniently list where to buy typical accessories to complete your Waterloo Emitter™.
Medium Duty Single
Stage Oxygen Regulator
No Smoking
Sign
Flow Control
Valve
Needle Value
Lifting Line
SS Wire Rope
Cable Clip Clamp
100'
50'
Gas Cylinder Wall Mounted Bracket

Stationary
Cylinder
Holder

Tubing Connect Fittings
Tubing
Polyurethane 95A
¼" OD
1 Cylinder, Plastic
2 Cylinders, Plastic
1 Cylinder,

Aluminum

Tee ¼" OD

Straight
¼" OD

3/8" NPT Female Cap
Coupling Schedule 80
3/8" NPT Female
Nipple, Schedule 80
3/8" NPT Male, 4"