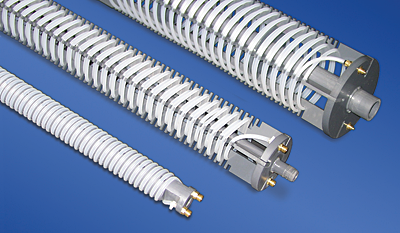 Waterloo Emitter™
The Waterloo Emitter™ is a simple, low cost device designed for the controlled and uniform release of oxygen, or other bio-enhancing amendments, to encourage and sustain the growth of microorganisms required for in situ bioremediation of contaminated groundwater.
The patented technology (U.S. Patent # 5,605,634) enables steady, direct diffusion of oxygen into an aquifer through pressurized silicone or LDPE tubing. Continuous, consistent release of oxygen into the tubing creates the ideal concentration gradient driving this passive system, without 'bubbling off' excess oxygen.
Emitters are ideal for the bioremediation of BTEX and MTBE using oxygen. The diffusive process provides immediate bioavailability of molecular oxygen for aerobic biodegradation enhancement; therefore, no loss of the amendment gas occurs. The Waterloo Emitter can also encourage desirable abiotic reactions (pH adjustment, hydrolysis, etc.).
Simple Versatile System
Waterloo Emitters are available to fit 2", 4" and 6" (50 mm, 100 mm and 150 mm) wells. They can be installed in open wells, or they can be permanently installed with sand packs in boreholes or trenches. The 51" (130 cm) long Waterloo Emitters can be installed individually or stacked one on top of another, to ensure full coverage of the contaminant plume. They are also effective in horizontal applications.
Because there is no minimum hydraulic head required, the Emitters are effective at any depth below water. When used in conjunction with packers and/or circulating pumps, the radius of influence is increased.
The Waterloo Emitter's unique diffusive technology allows for the use of almost any chemical as an amendment to treat contaminated groundwater. The PVC frame accommodates the insertion of monitoring or sampling devices for observing groundwater conditions during the remediation process.
Advantages
Low cost
Steady release for constant microbial activity
Easy installation and removal
Minimal maintenance and operating effort

No amendment loss due to 'bubbling'
No hazardous substances introduced or produced
No slurry to mix, handle or inject
No electricity required
Suggested Acessories for Installation
Medium Duty Single
Stage Oxygen Regulator
No Smoking
Sign
Flow Control
Valve
Needle Value
Lifting Line
SS Wire Rope
Cable Clip Clamp
100'
50'
Gas Cylinder Wall Mounted Bracket

Stationary
Cylinder
Holder

Tubing Connect Fittings
Tubing
Polyurethane 95A
¼" OD
1 Cylinder, Plastic
2 Cylinders, Plastic
1 Cylinder,

Aluminum

Tee ¼" OD

Straight
¼" OD

3/8" NPT Female Cap
Coupling Schedule 80
3/8" NPT Female
Nipple, Schedule 80
3/8" NPT Male, 4"