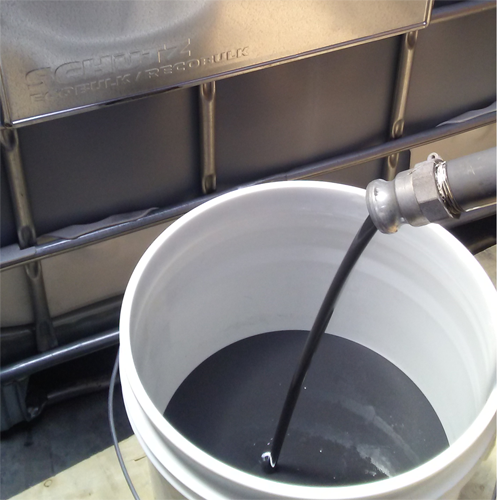 In Situ Chemical Reduction
ISCR combines both biological processes and ZVI particle driven abiotic pathways to chemically reduce persistent organic compounds such as chlorinated solvents, pesticides and energetics into harmless end products. ISCR is often used in conjunction with an electron donor substrate like Tersus' EDS-ER™. The incorporation of ZVI enhances chlorinated contaminant remediation by enabling various chemical reduction pathways and limits the formation of undesirable chlorinated contaminant breakdown products such as Cis-DCE and vinyl chloride.
ZVI Suspensions
Tersus' mZVI Suspension is engineered to accomplish the rapid and sustained degradation of chlorinated hydrocarbons and other toxic groundwater contaminants. With 40% ZVI in glycerol and biodegradable food grade biopolymer, no other ZVI product provides the unique combination of small particle size, ease of use, and reactivity with many common groundwater contaminants.
Chemical & Physical Properties
| | |
| --- | --- |
| Parameter | Typical Values |
| ZVI (% by wt.) | 40 |
| ZVI average particle size | <10 μm |
| Fermentable Carbon (% by wt.) | 60 |
| Density | 14 lbs./gal |
| Viscosity (cP) | ~ 3,000 |
Easy to Use
mZVI Suspension is diluted in the field with water and inject into contaminated groundwater. The fluid is pumped or poured into mixing tanks containing water and optionally, other remediation amendments. The resulting aqueous suspension is then pumped directly into the contaminated groundwater at pressures that are often below 20 psi.
No other zero valent metal products can be injected with such a diverse set of equipment including pneumatic diaphragm pumps, progressing cavity pumps, and centrifugal pumps. A unique feature of our ISCR products is the ability to be injected through horizontal and vertical screened wells as well as sampler screens via DPT.
Benefits Metal-Assisted Bioremediation and How They Are Attained
Learn More
Is ISCR the right solution for your contamination concern? Find out here. Have questions or want to explore some ideas? Contact Us to learn how we can put together a money saving program to get your project over the finish line. If you currently have a project and need a remediation solution now, request a site evaluation by supplying us with the appropriate site information at this link. Our skill and experience implementing in situ bioremediation along with in situ chemical reduction creates high-value solutions to complex groundwater and soil contamination and related issues at a lower cost. Tersus welcomes the opportunity to work with you and your team help you successfully plan and execute your next project.