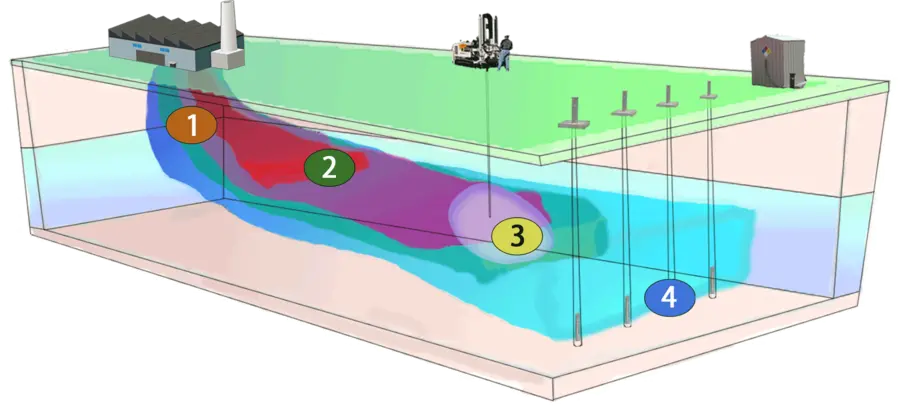 Site Remediation Solutions
When it comes to contaminated site remediation there is a broad range of possible solutions. Tersus offers a diverse selection of products and technologies. Not focused on a single technology, Tersus offers the right solution for your site-specific needs. Our proven technologies help our clients reduce uncertainty, minimize risks, and achieve cost-effective results. For every zone of your plume, we've got you covered!
This section highlights some of our most popular products by treatment category. Learn more about our products by selecting a treatment category.
We look forward to helping you develop the optimally cost-effective, remediation approach.
Surfactant-Enhanced Aquifer Remediation
Surfactant-enhanced aquifer remediation (SEAR)
is a cost-effective alternative to conventional pump-and-treat remediation for aquifers contaminated by non-aqueous phase organic liquids. Tersus is the worldwide distributor of the leading surfactant technology,
TASK™
(Tersus Advanced Surface Kinetics), and related products, including patented methods for
in situ
surfactant and chemical oxidation. Supported by nearly two decades of research and testing at the University of Oklahoma,
TASK™
offers a wide range of applications related to hydrocarbon contamination flushing.
In Situ Sorption and Biodegradation
Combining powdered activated carbon with an electron acceptor to stimulate biodegradation, NutriBind® is designed to address the challenges inherent in soil and groundwater remediation. NutriBind® is a powdered reagent that, once applied, delivers rapid contaminant concentration reduction combined with accelerated bioremediation.
Zero Valent Iron (ZVI)
Looking for a
ZVI
solution?
Tersus offers multiple grades of highly reactive ZVI that can be specially selected to meet the varying requirements of contaminated sites.
In Situ Chemical Reduction (ISCR)
In Situ Chemical Reduction (ISCR)
is an innovative environmental technique used for soil and groundwater remediation that involves the placement of a reductant or reductant generating material in the subsurface to decrease the concentrations of targeted environmental contaminants to acceptable concentrations. Zero-Valent Iron (ZVI) is most commonly used to remediate toxic organohalides such as chlorinated ethenes and ethanes, pesticides, energetic compounds and some metals and metalloids into harmless end products.
[ITRC 2011
]. The process combines both biological processes and ZVI-driven abiotic pathways to chemically reduce the contaminants. An advantage of incorporating ZVI is that it enables various chemical reduction pathways for chlorinated ethenes and limits the formation of undesirable breakdown products such as Cis-DCE and vinyl chloride.
Enhanced Anaerobic Bioremediation
Under anaerobic conditions, organic contaminants can serve as the electron donors or electron acceptors during biodegradation processes (USEPA, 2013).
Electron Donors for Anaerobic Reductive Bioremediation
Anaerobic reductive bioremediation is the practice of adding biologically available organic bioremediation amendments, referred to as organic substrates or electron donors, to groundwater to generate and sustain anoxic conditions by consuming oxygen via aerobic respiration, as well as other electron acceptors, during its biodegradation. By generating hydrogen through fermentation reactions, it promotes the bioreduction of oxidized contaminants such as chlorinated solvents. The chlorinated compounds serve as electron acceptors and undergo reductive dechlorination under anaerobic conditions in the presence of an electron donor (USEPA, 2013). Tersus bioremediation amendments are formulated to optimize in situ remediation of contaminated soil and groundwater. We provide:
Learn More
Is anaerobic reductive bioremediation the right solution for your contamination? Find out here.
Electron Acceptors for Anaerobic Oxidative Bioremediation
At petroleum-contaminated sites where oxygen has already been depleted, anaerobic oxidative bioremediation is often applied. In the absence of oxygen, anaerobic oxidative bioremediation relies on other electron acceptors such as nitrate or sulfate for direct microbial metabolic oxidation of a contaminant (USEPA, 2013). Amendments with soluble sulfate and electron donor such as Nutrisulfate® are often added to the affected area to stimulate sulfate-reducing conditions to help microbes metabolize the petroleum compounds.
Bioaugmentation Cultures, Laboratory Treatability Studies and Gene-Trac® Molecular Testing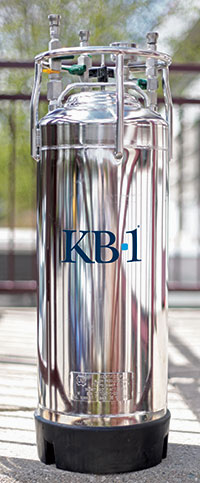 SiREM, a company Tersus represents, provides the tools environmental professionals need to optimize remediation of chlorinated solvents and other recalcitrant chemicals. As an industry leader, SiREM provides unparalleled technical support, combined with a unique range of products and testing services, that save clients money, increase remediation effectiveness and provide peace of mind during field implementation.
Bioaugmentation Cultures
The complete reductive dechlorination of chlorinated ethenes yields non-toxic ethene as a final product. Absent the right bacteria, you could see an accumulation of vinyl chloride. Although not necessary at every site, Tersus recommends the use of KB-1® bioaugmentation cultures.
KB-1® and KB-1® Plus bioaugmentation cultures by SiREM have been used for over a decade to enhance bioremediation of chlorinated solvents. These cultures introduce beneficial microorganisms to contaminated sites where they are absent or at low concentrations. Bioaugmentation with KB-1® and KB-1® Plus is an effective solution to enhance remediation of a growing range of chlorinated solvents and other recalcitrant compounds.
Learn More
Laboratory Treatability Studies
The professionals at SiREM are experts at performing treatability studies for a wide variety of contaminants. SiREM treatability studies are designed as replicated controlled experiments that provide a high level of data integrity and interpretability.
Learn More
Case Study, Technology Evaluation Bench-Scale TreatabilityTechnology Evaluation Bench-Scale TreatabilityTesting for a 1,1,1-TCA/TCE Site
Gene-Trac® Molecular Testing
Gene-Trac® testing by SiREM is used to quantify key microorganisms and to determine microbial community composition for the assessment of bioremediation potential and to monitor enhanced bioremediation performance by quantifying and characterizing microorganisms in groundwater and soil/sediment from contaminated sites.
Learn More
In Situ Chemical Oxidation (ISCO)
ISCO is a remediation approach involving the injection or introduction of strong chemical oxidizers directly into the contaminated soil or groundwater to destroy chemical contaminants in place. For ISCO we activate TersOx™ Liquid with a proprietary modulator formulated to slowly oxidize contaminants. Modulated TersOx™ Liquid provides the best of both worlds, offering potency and stability. It can mineralize volatile and semi-volatile, halogenated and non-halogenated hydrocarbons, pesticides, PCBs and stabilizers. Modulated TersOx™ Liquid is extremely stable to be blended as one product for subsurface injection, above ground for safety, for long-lasting effects below ground, and to allow contact where needed.
Enhanced Aerobic Biodegradation
Enhanced aerobic biodegradation is the practice of adding oxygen to saturated soil and groundwater to encourage and sustain the growth of microorganisms required for
in situ
bioremediation of contaminated groundwater. It is typically used to treat low to moderate levels of contamination. Our product offerings include:
TersOx™ - a specially formulated inorganic peroxygen, calcium peroxide, that produces a controlled-release of molecular oxygen
Waterloo Emitter™ - a simple, low cost in well device designed for the controlled and uniform release of oxygen, or other bioenhancing amendments
Learn More
TersOx™ Buffer

Te

rsOx™ Liquid

TersOx™ Microbe

TersOx™ Modulator

TersOx™ Nutrients
Our skill and experience implementing in situ remediation creates high-value solutions to complex groundwater and soil contamination and related issues at a lower cost. Tersus welcomes the opportunity to provide you and your team with the tools you need to successfully plan and execute your next project.
Request a Site Evaluation
Have questions or want to explore some ideas? Contact Us to learn how we can put together a money saving program to get your project over the finish line. If you currently have a project and need a remediation solution now, request a site evaluation by supplying us with the appropriate site information at this link.
Learn More
Is one of the above technologies the right solution for your contamination concern? Find out here